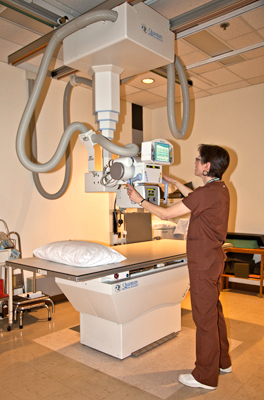 The Annapolis Collaborative Practice (ACP) provides quality health care to a common group of patients within the Annapolis County. Our spacious and newly renovated office is located inside the Annapolis Community Health Centre (ACHC) which offers the following services:
• Laboratory services
• Diagnostic imaging (x-ray)
• Cardiac investigation services, including ECG, holter and event monitoring.
• Inpatient beds, plus Palliative Care beds
• Rehabilitation services, including Physiotherapy and Occupational Therapy
• A Diabetes Centre, with a full-time Dietitian and part-time Diabetes Nurse Educator.
• Specialist Traveling Clinics in gynecology, urology, and internal medicine.
• Mental Health Services, with regular visits by a psychiatrist and psychologist.
• Public Health Nurse, whose office shares our waiting room.
• Continuing Care office (home care and assessments for long-term care placement).
Inter-professional rounds within ACHC take place every morning where the health care team can gather and discuss patient care needs in order to provide a comprehensive patient centred model of care.
Forms and Letters
If you have a form or letter that needs to be completed by one of our clinicians it may not be completed during your office appointment (with the exception of Driver's Medicals). We strive to get them done in a timely fashion and the office will contact you when the document is completed. Upon direction from you we can mail or fax the document directly to the associated company on your behalf. In addition, there may be a charge associated with the completion of the document. There are posters in the office with a guide to these costs. If you have any questions about this, the office staff can provide you with more information.
Chart Transfer
Your medical information is highly confidential. If you wish to have information released to another physician or company, ACP must have a Medical Release Authorization form signed by you. We can provide that form if requested. We require a minimum of two weeks notice to prepare your chart for transfer. As MSI does not fund this service, there is a fee of $30 per patient plus additional costs (subject to change).